Today I'm participating in the Ultimate Blog Swap. You'll find me posting over at Adventures of Life, Love and Librarianship about Asking for a Discount in Today's Economy, and I'm excited to welcome Liz from Hoosier Homemade to Family Balance Sheet:
Hi there, Family Balance Sheet fans! I'm Liz from Hoosier Homemade, and am so excited to be chatting with you today. I cook and bake…A LOT…and have tons of cookbooks too. I find my inspiration and recipes from many of them, especially my cupcakes.
But sometimes, stacks and stacks of cookbooks can be messy and pretty annoying. I found the easiest way to store my cookbooks, is in baskets.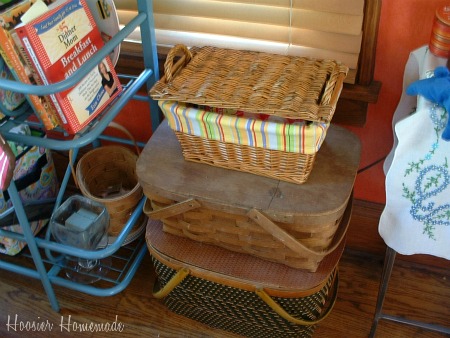 Big ones…small ones…pretty much any size, any shape, you name it…I use it! Do you see the Baker's Rack in the picture too? I painted it and added some fun baskets to it for organizing as well.
The picnic basket on the bottom was passed on from my Mom, and I treasure it. The picnic basket in the middle was an estate sale find and the little one on top…came from a garage sale.
I love those little books that you can pick up at the checkout of most stores, many times they have lots of great recipes, and often even pull out recipe cards.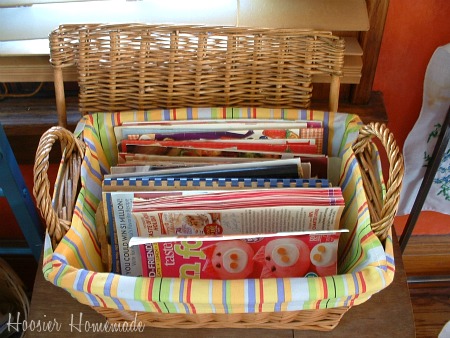 They fit perfectly in the small basket! Close the lid and the mess is out of sight!
Do you use baskets to organize your house? What is your favorite tip?
You can find Liz over at Hoosier Homemade where she cooks, bakes and decorates your home. When she's not serving up cupcakes, she is joining her husband over at It's A Blog Party, where there is a different linky party everyday. And watch for her new blog…Pocket Change Gourmet, launching in July! Follow Liz on Twitter and Facebook.Visit Life…Your Way to see all of the Ultimate Blog Swap participants!
Thanks for reading. If you would like to receive FREE updates of FBS, there are four ways to do so: