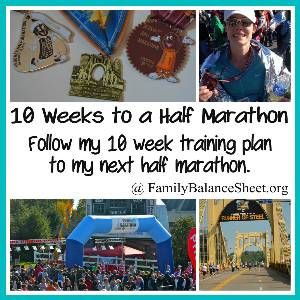 Pin this Post
Every week between now and early May, I will be charting my progress as I train for my next half marathon in Pittsburgh. I'll post everything about my training from the actual distances to what I wear to how I stay hydrated, nourished and entertained while running.
My Must Have Gear
I don't leave the house with my gear.
Mizuno Wave Rider Running Shoes. I am a strong believer in high quality running shoes when you are running high mileage. There's nothing wrong with buying cheaper sneakers, but you get what you pay for and I've had less injuries since I started investing a little more money to buy better shoes. I buy my running shoes at a local running store where everyone on staff is an experienced runner. They have given me a lot of advice over the years and  they also led me to Mizuno's. This is my second pair and I LOVE them.
My Nike shades.
Timex Ironman Watch
iPhone.
Belkin Armband for my Apple iPhone.
Sony Ear Buds.
a hat. If it's cold, I wear the blue Adidas hat that covers my ears. Otherwise, I wear a baseball cap, usually my Life is Good running hat.
During the cold weather months, I always wear my gloves.
I store all of the gear, except for my iPhone, in a bin in our garage. Everything is ready to go when I head out the door.
My Week 2 Workouts:
Monday: 3 mile run outside, easy pace –
Thursday: 3 mile run outside, easy pace
Friday: 1 hour of yoga at the Y
Saturday: 3 mile run outside, easy pace
Saturday: 5 mile run outside, run at conversational pace
I ran a 10 minute pace all week. Week 2 is over and it marks the end of the easy workouts. Every run in the first two weeks was  at an easy pace, but that changes with week 3. It's time to kick it up a notch.
Training Plan for Upcoming Week 3
Monday: 3 miles, easy pace.
Wednesday: 5 miles with 2 miles at tempo pace.
Thursday: 3 miles, easy pace.
Friday: 1 hour yoga at the Y.
Saturday: 6 miles, run at conversational pace
Tempo pace is when you run a portion of your workout at a faster pace. This article in Runner's World explains it well. In my past training, I just ran my 10 minute pace through out the entire 10 weeks. I didn't push myself to run much faster than that. Now that I have a goal of beating a particular time, not just finishing a race, I need to increase my pace with these tempo runs. I have no way of timing that pace and I currently do not have a heart rate monitor to track my output, so I'm just going to push myself to run a faster pace.
Read more:
Week 1 of 10 Weeks to a Half Marathon
A note about my training plan: The half marathon training plan that I follow is designed for beginners. Although, it is advised that you do not start using the 10 week training plan until you are able to run 6 miles. If you are new to running, start by training for a 5k. There is plenty of information online to help you with 5k training.
Are you training for a particular race? How is your training going? Let us know in the comments.
This post is linked to Motivation Monday and Busy Monday and Fitness Friday.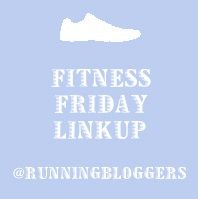 Thanks for reading. If you would like to receive FREE updates of FBS, there are four ways to do so:
Disclaimer Notice – Please understand that I benefit financially from any products or services you may decide to purchase as a result of clicking on one of the links contained in this article or on this site. You can read the site's full disclosure here.