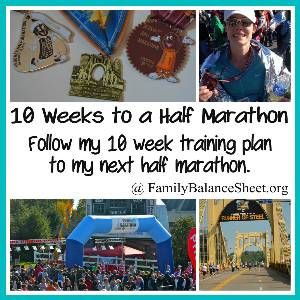 Every week between now and early May, I will be charting my progress as I train for my next half marathon in Pittsburgh. I'll post everything about my training from the actual distances to what I wear to how I stay hydrated, nourished and entertained while running
.
What I Wear When Running
I have two rules when it comes to running clothing: it must be comfortable and it can't be made of cotton. In the past, I would throw on any cotton t-shirt, but I now only wear the fabrics that wick away moisture (including my socks and undergarments), like Nike's Dri-FIT–although all brands have their own moisture wicking fabric. I don't want to feel the sweat as happens with cotton.
Spring/Fall Weather
This is my favorite time of year to run. It's not too hot or too cold and I can usually just lace up and head out the door…or maybe it's because I love the running clothes the best. I usually wear my very favorite Nike Pro Core V-Neck Long Sleeve Running Top. It's fitted, so I don't feel like I'm wearing a bag. It's also made of Dri-FIT which wicks away moisture. I love this top and I also have the short sleeve version. For bottoms, I like to wear capri length running pants.
Summer Weather
I am very fair-skinned, so I avoid the sun during the summer and run in the early morning, usually around 6 AM. Running isn't enjoyable for me when it's blazing outside, so early summer mornings are perfect conditions. I wear running shorts and a non-cotton short-sleeved shirt.
Cold Weather
I thought we were headed into spring weather last week, but yesterday the weather took a dive again. It was in the mid-30's when I went out and by the end of my 6 miler snow flakes were starting to fall. Thankfully, it wasn't windy.
When temperatures dip below 40 and it's cloudy outside, I wear more layers. I always cover up my ears with my silly looking Adidas cap, but I'm warm. I also wear a long sleeved non-cotton top, a fleece jacket, gloves, and my favorite Adidas boot-cut pants. I don't even think they make these pants any more which is too bad, because they are so comfortable. And surprisingly they are long enough for my almost 5'11 frame. They sit higher on the waist and don't slide down when running. I have them in 5 colors and they have lasted for years. I got them about 8-10 years ago and they're still going strong.
Which leads me to a piece of advice: Buy quality workout clothing. You don't have to pay full price. I bought all of those Adidas pants at an outlet store. Good clothing will last much longer–at least that has been my experience.
So that's what I wear when running…now on to my workouts.
My Week 3 Workouts
Monday: 3 miles, easy pace.
Wednesday: 5 miles with 2 miles at tempo pace.
Thursday: 3 miles, easy pace.
Friday: 1 hour yoga at the Y.
Saturday: 6 miles, run at conversational pace
It's been several months since I've run 6 miles and I felt really good during the run. I feel like I'm getting into a groove. The yoga class that I've been taking every week has really helped. My teacher focuses on stretching and that helps my really pathetic and tight hamstrings.
My Training Plan for Upcoming Week 4
Monday – 3 miles, easy pace
Wednesday – 5 miles, with 3 miles at tempo pace
Thursday – 3 miles, easy pace
Friday – 1 hour yoga at the Y
Saturday – 7 miles, run at conversational pace
Are you training for a particular race? How did your training go this week? Let us know in the comments.
Read more:
Week 1 of 10 Weeks to a Half Marathon
A note about my training plan: The half marathon training plan that I follow is designed for beginners. Although, it is advised that you do not start using the 10 week training plan until you are able to run 6 miles. If you are new to running, start by training for a 5k. There is plenty of information online to help you with 5k training.
Thanks for reading. If you would like to receive FREE updates of FBS, there are four ways to do so:
Disclosure – This post contains affiliate links that help support this site at no additional cost to you. Thank you for supporting Family Balance Sheet! You can read the site's full disclosure here.