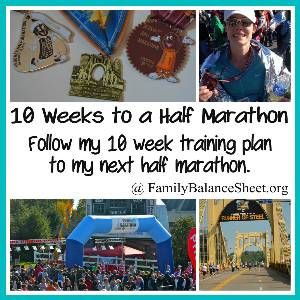 Every week between now and early May, I will be charting my progress as I train for my next half marathon in Pittsburgh. I'll post everything about my training from the actual distances to what I wear to how I stay hydrated, nourished and entertained while running
.
Hydration
I learned the hard way about the importance of hydration and how dehydration can be sneaky and dangerous.
Back in October 2011, I ran my first half-marathon. I followed this same 10 week plan that I  am currently using for this series. I felt really prepared when the gun went off that beautiful morning. I was cruising along nicely trying to decide if I should pick up my pace, because I felt so good. At the mile 8 drink station, I grabbed a cup of sports drink instead of water. While I don't care for sports drinks–they always seem to make me more thirsty–something inside me told me that I needed more than water. Up to that point I grabbed only water at every drink station along the course. Soon after drinking that sport drink, I developed a side stitch that was almost unbearable. I pinched my side for the last 5 miles just to relieve the stitch.
I finished the race and drank 2 bottles of water from the time I crossed the finish line until we got in the car to leave the race. I continued to drink water the rest of the day.  I was also ravenous. I had quite an appetite the rest of the day.
At 8 pm that night, I couldn't fight exhaustion any longer, so I went to bed. I awoke around 11 pm when my husband came to bed to go to the bathroom. As I sat down on the toilet, I remember a wave of nauseousness coming over me…
Meanwhile, my husband was in our bedroom when he heard a loud thud. When he ran into the bathroom to check on me–he found me lying on the bathroom floor.
"KRISTIA! KRISTIA! KRISTIA!"
He was panicked and was about to call 911 when I started to open my eyes. As I was coming back to consciousness and shaking the cobwebs out of my head, I was wondering, "why is my husband yelling at me and shaking me? And why am I laying on the bathroom floor?" I was so confused.
He went to get me some water and a banana. When I felt better I eventually went back to sleep. However, my poor husband was up most of the night checking on me.
The next day, I was very loopy. I ate normally and continued to drink water, but I felt out of it most of the day.
My mom called me to see how I felt after my first half-marathon and I explained to her what had happened. "You were dehydrated", she said.
What? I drank water all day before the race, in the morning before the race, through out the entire race, AND the whole day after I ran! How could I be dehydrated?
I shook it off and two days after the race I was back to normal. About a month later, I went to the running store to get some new shoes. I was explaining to the sales guy what had happened and he said, "you were dehydrated."
"How? I drank water all day before the race, in the morning before the race, through out the entire race, AND the whole day after I ran! How could I be dehydrated?", I asked.
There's a reason why I shop for my running shoes at running stores–the sales staff is usually very experienced in running. The sales guy explained to me that water is fine for running short distances, like a 5k, but when training for and running longer distances, like a half marathon I should be drinking sports drinks to replenish my electrolytes. Water doesn't replace electrolytes and I had depleted my body of them during the race which caused me to pass out later that day. He also told me to drink them during my long training runs, anything over 6 miles.
For the entire 10 weeks of training for my first half, I only drank water. I dislike sports drinks as they seem to make me more thirsty and leave a weird film on my tongue. He recommended electrolyte drink tablets. They are lighter tasting than the bottles that you buy in the store. You just put a tablet in a bottle of water and let it dissolve.
I use these two electrolyte drinks for my long runs (anything over 6 miles):
GU Energy – Brew Pure Performance Electrolyte Drink Tablets in Orange
Electrolyte Enhanced Drink Tabs in Tri-Berry
There are 12 tablets in each tube and you just add one to 16oz of water and in a minute or two the tablet fizzles into a sports drink. They each cost between $5 – $6.50, depending on where you buy them. I've seen them online, running stores, and Dicks Sporting Goods.
I have not had a problem with dehydration ever since that first race. Personally, I take a bottle with me on every run over 6 miles. I might also drink another one throughout the day after my long run. Also, I avoid running in really high heat. Usually, I'm an early morning runner to avoid the high heat, but if for some reason I am running any distance (even less than 6 miles) in high heat, I take a bottle with me.
If dehydration is an issue for you, I'd also suggest you talk to your doctor.
The moral of this story, REPLENISH YOUR ELECTROLYTES!
And now on to my workouts:
My Week 4 Workouts
Monday – 3 miles, easy pace
Wednesday – 5 miles, with 3 miles at tempo pace
Thursday – 3 miles, easy pace
Friday – 1 hour yoga at the Y. I love this class! It really helps my super tight hamstrings.
Saturday – 7 miles, run at conversational pace. The temp was about 38, but it was a sunny day, just really breezy.
My Training Plan for Upcoming Week 5
Monday – 3 miles, easy pace
Wednesday – 4 miles, easy pace
Thursday – 4 miles, easy pace
Friday – 1 hour yoga at the Y
Saturday 8 miles, run at conversational pace
Are you training for a particular race? How did your training go this week? Let us know in the comments.
Read more:
Week 1 of 10 Weeks to a Half Marathon
Week 3 of 10 Weeks to a Half Marathon | What I Wear
A note about my training plan: I am not a medical professional or a certified trainer, just an avid runner. Please consult a professional if you feel you need one. Also, the half marathon training plan that I follow is designed for beginners. Although, it is advised that you do not start using the 10 week training plan until you are able to run 6 miles. If you are new to running, start by training for a 5k. There is plenty of information online to help you with 5k training.
Thanks for reading. If you would like to receive FREE updates of FBS, there are four ways to do so:
Disclosure – This post contains affiliate links that help support this site at no additional cost to you. Thank you for supporting Family Balance Sheet! You can read the site's full disclosure here.