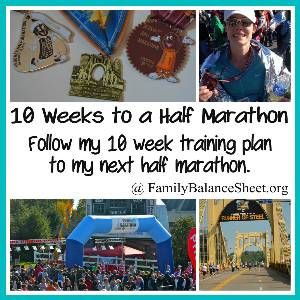 Every week between now and early May, I will be charting my progress as I train for my next half marathon in Pittsburgh. I'll post everything about my training from the actual distances to what I wear to how I stay hydrated, nourished and entertained while running
.
Long runs can get tedious at times. It's just me, myself and I. Boredom sets in and I start to drive myself crazy. Usually I've got to-do lists, grocery lists, and blog ideas blitzing my brain. Sometimes I wish there was an app that dictated what was streaming through my brain while I was running. Wouldn't that make a great app? At the end of a run, I wouldn't have to strain to remember the great ideas that I had at mile 2.
A change of scenery could help, but often I run as the sun is coming up, so I tend to stick to my neighborhood which isn't very exciting. So to prevent boredom, I listen to podcasts or my favorite music. If I'm running 4 miles or less, I listen to podcasts. I like Michael Hyatt's This is Your Life and Dave Ramsey's EntreLeadership and they usually run 30-40 minutes.
If I'm running over 4 miles, I turn on the music and listen to my eclectic playlist. Here are some of my favorites in my mix of about 50 songs:
You Get What You Give – The New Radicals – My ALL-TIME Favorite song to run to.
Dancing Queen – ABBA
Poison Arrow – ABC
Accidentally In Love – Counting Crows
In Between Days – The Cure
Times Like These – Foo Fighters
Don't Change – INXS
Orange Crush – REM
Beautiful Day – U2
Tempted – Squeeze
Sometimes, if I have a problem or dilemma that I need to sort through, I don't listen to anything. Just silence. 
 How do you prevent boredom on your long runs? What are your favorite songs on your playlist? Let us know in the comments.
…and now my workouts.
My Week 5 Workouts
Tuesday – 3 miles, easy pace
Wednesday – 4 miles, outside
Friday – 3 miles, easy pace on the treadmill – I needed to make up for a missed run, so I skipped yoga this week. I didn't have time for both and I needed to prepare for my 8 mile long run.
Saturday – 8 miles at conversational pace
My Training Plan for Upcoming Week 6
Monday – 3 miles, easy pace
Wednesday – 4 miles, tempo run for 3 miles
Thursday – 3 miles, easy pace
Friday – 1 hour yoga at the Y
Saturday – 6 miles, run at conversational pace
Week 6 is somewhat of a rest week for the upcoming weeks 7 & 8 where the long runs hit 10 and 12 miles. I'll take the rest!
How did your training go this week? Let us know in the comments.
Read more:
Week 1 of 10 Weeks to a Half Marathon
Week 3 of 10 Weeks to a Half Marathon | What I Wear
Week 4 of 10 Weeks to a Half Marathon | Hydration
A note about my training plan: I am not a medical professional or a certified trainer, just an avid runner. Please consult a professional if you feel you need one. Also, the half marathon training plan that I follow is designed for beginners. Although, it is advised that you do not start using the 10 week training plan until you are able to run 6 miles. If you are new to running, start by training for a 5k. There is plenty of information online to help you with 5k training.
Thanks for reading. If you would like to receive FREE updates of FBS, there are four ways to do so: