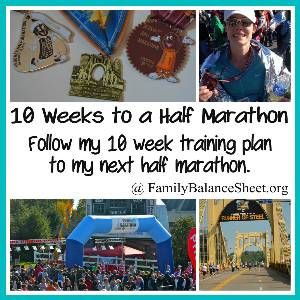 Pin this Post on Pinterest
Every week between now and early May, I will be charting my progress as I train for my next half marathon in Pittsburgh. I'll post everything about my training from the actual distances to what I wear to how I stay hydrated, nourished and entertained while running
.
At the worst possible time, two weeks before the Pittsburgh half, I've been hit with an injury. During week 7's 10 mile run, I developed pain in my left foot.
I have been cruising along with my 10 week training for the Pittsburgh half marathon and feeling pretty good about my progress. I have missed very few workouts, I've been building up my mileage, and I was pleased with my pace, when all of the sudden I developed some pain in my left foot during the 10 miler. I had a sick feeling in my stomach that the pain was plantar fasciitis.
Plantar fasciitis occurs when you strain the long band of tissue that connects the heel bone and your toes. This tissue supports your arch and the arch of my left foot was killing me. I've had plantar fasciitis before, but it was about 8 years ago and I wasn't training for a specific race, so I took time off from running. I'm running a half marathon in two weeks, I can't take time off now!
When I got home from the run, I immediately iced the bottom of my foot and continued to ice through out the day for 20 minutes at a time.
When my alarm went off on Monday the next morning, there was no way I was going to be able to run my planned 3 miles. Plantar fasciitis pain is worse in the mornings, because your foot attempts to heal over night, but as soon as you put weight on it in the morning it feels like you're walking on glass.
Once I got moving that day, I made a trip to see my chiropractor (who also happens to be my husband). He not only adjusted my back and hips…
but also my feet.
I took Tuesday off from running as well, but continued to ice and I went for another chiropractic adjustment. By Wednesday, my foot felt much better, so I went for a 3 mile run. I ran very gingerly, if that is a word, but I tried to run as lightly as possible. I was afraid to put much stress on my foot. On Thursday, getting out of bed was a bit painful, so I iced and got another chiropractic adjustment.
On Friday, I needed to run 6 miles. I made it through 4 before I stopped from the pain. I'm not sure if the pain was something I could run through or if I was going to make the plantar fasciitis worse.
I iced all weekend and on Sunday, my plan was to run 12 miles, my longest run on the entire 10 week plan.  I scratched it completely and decided that the best thing for my foot was to take a few more days off. I was a bit frazzled at the thought of not running my longest training run two weeks before a big race, but I surrendered. Anxiety will get me nowhere and the best thing for my recovery is to take some time off. I continued to ice and I got another chiropractic adjustment, so hopefully when I go out for the first time during week 9 my foot will be completely healed.
What I was supposed to run during week 8:
Monday – 3 miles, easy pace
Wednesday – 6 miles, tempo pace for 4 miles
Thursday – 3 miles, easy pace
Friday – 1 hour of yoga at the Y
Saturday – 12 miles at conversational pace 
What I actually ran week 8:
Monday – My alarm went off at 6 am. As soon as I put my left foot on the floor and put weigh on it, I knew I wasn't going to be able to run, so I decided that I needed to take a couple of days off.
Wednesday – I ran 3 very easy miles at a gingerly pace. I was afraid to put to much stress on my left foot.
Friday – My goal was to run 6 miles. I needed to run 6 miles. But at mile 4 I stopped. My foot was in a lot of pain. I can usually work through pain, but I wasn't sure if this was the kind of pain that you can work through or if I would cause more damage trying to work through it.
My training plan for Week 9 (or at least what I should be running):
Monday – Run 3 miles
Wednesday – Run 6 miles
Thursday – Run 3 miles
Friday – 1 hour yoga at the Y
Saturday – Run 9 miles
Have you ever suffered from plantar fasciitis? How did you deal with it? Are you training for a race? How is your training going? Let us know in the comments.
Read more:
Week 1 of 10 Weeks to a Half Marathon
Week 3 of 10 Weeks to a Half Marathon | What I Wear
Week 4 of 10 Weeks to a Half Marathon | Hydration
Week 5 of 10 Weeks to a Half Marathon | Preventing Boredom on the Long Run
A note about my training plan: I am not a medical professional or a certified trainer, just an avid runner. Please consult a professional if you feel you need one. Also, the half marathon training plan that I follow is designed for beginners. Although, it is advised that you do not start using the 10 week training plan until you are able to run 6 miles. If you are new to running, start by training for a 5k. There is plenty of information online to help you with 5k training.
Thanks for reading. If you would like to receive FREE updates of FBS, there are four ways to do so: