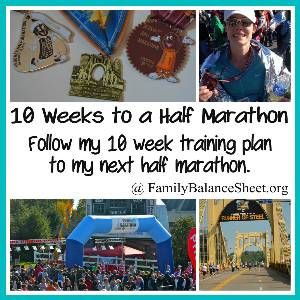 Every week between now and early May, I will be charting my progress as I train for my next half marathon in Pittsburgh. I'll post everything about my training from the actual distances to what I wear to how I stay hydrated, nourished and entertained while running
.
I just completed week 9 and I'm now in the final week of my 10 week training. The good news is that my left foot is feeling much better. The time off I took from running last week helped along with ice, chiropractic care, and I ordered some new fitted orthotics. I waited too long to replace my old ones and my foot paid the price.
This final week is all about prepping for the race. My goal is to drink lots of water and eat well every day and get to bed before 10 pm every night. My training is down to a taper. At this point, either I'm ready to tackle 13.1 miles or I'm not. My left foot is still tender, so I might not make my goal time of less than 2 hours, but I'll put that off for a fall race and just focus on finishing this one.
I've made a list, so that I don't forget anything important. Last year, I forgot to pack a short sleeved shirt and race day turned out to be blazing. I ended up buying a shirt at the race expo and I paid a hefty price–at least it was a cute shirt.
My Workouts for Week 9
Wednesday – 3 easy miles
Thursday – 6 miles
Friday – 1 hour of yoga
Saturday – 10 miles
My Training Plan for Week 10
Monday – 3 miles
Wednesday – 5 miles
Thursday – 3 miles
Sunday – RACE DAY
I can't wait to update you next week about the race. Wish me luck!
Have you been training for a race? What distance are you training for? How's your training going? Let us know in the comments.
Read more:
Week 1 of 10 Weeks to a Half Marathon
Week 3 of 10 Weeks to a Half Marathon | What I Wear
Week 4 of 10 Weeks to a Half Marathon | Hydration
Week 5 of 10 Weeks to a Half Marathon | Preventing Boredom on the Long Run
Week 8 of 10 Weeks to a Half Marathon | Dealing with an Injury
A note about my training plan: I am not a medical professional or a certified trainer, just an avid runner. Please consult a professional if you feel you need one. Also, the half marathon training plan that I follow is designed for beginners. Although, it is advised that you do not start using the 10 week training plan until you are able to run 6 miles. If you are new to running, start by training for a 5k. There is plenty of information online to help you with 5k training.
Thanks for reading. If you would like to receive FREE updates of FBS, there are four ways to do so: