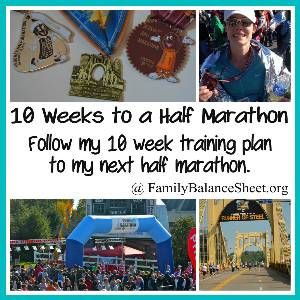 For 10 weeks between March and early May, I charted my progress as I trained for the Pittsburgh Half Marathon. I posted everything about my training from the actual distances to what I wear to how I stay hydrated, nourished and entertained while running. It was a long 10 weeks, but I got through it and I ran a personal best time of 1:57:23.
If running a half marathon is a goal of yours, I encourage you to read through my 10 week series.
After running the race on Sunday, I made a list of observations from the race that I wish someone would have told me before my very first half marathon.
Tips for a Race Day Success
Run your own race. Make your own goals.
Take you commitment seriously. You must train for a half marathon. You must put in some mileage to build up to the 13.1 miles. Know your limitations and train accordingly. You will probably not be able to get to 13.1 miles in 10 weeks if you have only ever run 3 miles. I
Keep good form & posture. Keep your head up. I saw so many people running hunched over so very early in the race. That isn't a good sign. When you hit a hill, keep that head up and look forward not at the ground.
Keep your breathing consistent.
Don't go out to fast after the gun goes off. I saw so many people huffing & puffing and actually stopping within the first two miles of the race. It is so easy to get caught up in the excitement of the race and run at a faster pace than what you can handle, but you MUST restrain yourself from going out too fast.
Thanks for reading. If you would like to receive FREE updates of FBS, there are four ways to do so: