It's a good thing my first week of training for my next half marathon was at the beach. I'm a bit bored with my local routes at home. Same roads. Same houses. Same white squirrels.
But last week we were in Stone Harbor, NJ with extended family for our annual summer beach vacation and for me there is nothing boring about running on the beach. It's very easy for me to get out of bed in the morning to run when I know that the beach is my destination.
My morning runs lead me to a sandy path through a bird sanctuary at the southern tip of Stone Harbor.
But I wasn't stopping to look at the birds. Instead, I kept following the path…
keep going…
Yep, right where I wanted to be. BIG SIGH–let any stress just melt away.
Nothing takes stress away like a wide open space with very few people on it.
I was one happy happy happy runner.
10 Weeks to a Half Marathon
Join me over the next 10 weeks as I journal my training for my fifth half marathon, the Runner's World Half in Bethlehem, PA. This will be the second time I've blogged about my 10 week training–the first time was this past spring as I trained for the Pittsburgh Half Marathon. I achieved my goal of a sub 2 hour time in Pittsburgh and you can read all about it here, Race Day Success.
My Week 1 Workouts
Sunday: Ran 3 miles on the beach.
Tuesday: Ran 4 miles on the beach.
Wednesday: 3 mile walk on the beach with a college friend who was also in town for the week.
Thursday: Ran 3 miles on the beach.
Friday: Ran 5 miles on the beach.
Sunday: Cried like a baby, because our beach vacation was over and no more beach running until next year.
Note about my beach running: I ran close to the water line where it is really flat and solid. First week down and my feet feel fine.
My Training Plan for upcoming week 2:
Monday: 3 mile run, easy pace
Wednesday: 4 mile run, easy pace
Thursday: 3 mile run, easy pace
Saturday: 5 mile run, run at conversational pace
I intend to incorporate some cross training into my plan in future weeks, but week 2 is looking pretty hectic since school starts next Monday and there's a next to nil chance that I'll get to the Y for yoga.
Are you training for a fall race? Let us know all about it in the comments. Also, where is your favorite place to run? Mine–obviously is the beach!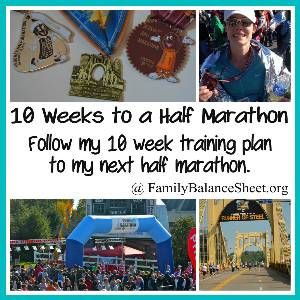 Thanks for reading. If you would like to receive FREE updates of FBS, there are four ways to do so: